Get Sponsored
Vladimir VamPyre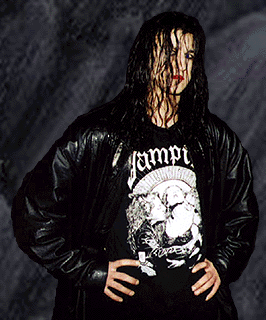 Vladimir VamPyre is a monster with ageless secrets.
All we know about him is the basics and his wrestling record.
VamPyre is 6 feet 2 inches tall and weighs 200 lbs.
He's wrestled with opponents such as The PittBulls of ECW,
The Bushwackers, The Cremator and the Intimidators. His high-flying and hard-driving moves in the ring have made him an opponent to be watched. He has no fear and enjoys pain. He says pain is the only thing left that can make him feel ALIVE! He is known for his utter inhumanity in the ring. He habitually uses chairs on every opponent he sees and, as any good vampire knows, he loves the sight of BLOOD!





This INDEPENDENT WRESTLING FEDERATIONS site owned by Day.
[ Previous 5 Sites | Previous | Next | Next 5 Sites | Random Site | List Sites ]